Photos : silomcomplex.net, www.facebook.com/AmarinBrandSale.AmarinPlaza, en.wikipedia.org/wiki/Gaysorn_Village,
www.facebook.com/TimessquareAsoke, www.facebook.com/CentralWorld, www.naraiphand.com, www.siamcenter.co.th,
en.wikipedia.org/wiki/Siam_Paragon, th.wikipedia.org/wiki/สยามดิสคัฟเวอรี, en.wikipedia.org/wiki/MBK_Center,
opthai.com/opplace/?page_id=686, www.theoldsiam.co.th, www.pratunam-market-bangkok.com,
en.wikipedia.org/wiki/Emporium_(Bangkok), www.facebook.com/SeaconSquareFanPage


What to Buy
See Some Best Buys in Thailand General Information Section.
Where to Buy
Like most big cities, there are two main types of shopping places in Bangkok. One is markets, and the other, shopping centres & department stores. Foreign shoppers who would like to touch the atmosphere of Thai-style market, seek for low-priced goods or love to bargain should go to markets. Prices in some shops and stalls in shopping centres can also be bargained, but not as much as in markets.
Shopping Centres & Department Stores
Bangkok has quite a number of good quality department store and superstore chains such as Central and Robinson. They have many branches located around Bangkok and other big cities. The following are some leading shopping centres grouped into areas.
Silom area
Buses : 15, 76, 77, 115, 116
Silom Complex This six-storey building consists of Central Department Store, clothing shops and restaurants. Thaniya Plaza A smaller and less busy place.
Phloenchit & Ratchadamri areas
Buses : 2, 13, 14, 17, 25, 40, 48, 73, 74, 77, 79, 204
This area abounds with many modern department stores and shopping centres including Amarin Plaza, Gaysorn Plaza and Times Square. Other leading ones are:
Central World Plaza (formerly World Trade Center) A huge shopping and entertainment complex.
Narayana Phand Located opposite Central World Plaza (formerly World Trade Center), this is a handicraft centre, under government supervision.
Peninsula Plaza contains some brand-name clothes shops, top local designer shops and restaurants.
Siam Square area
Buses : 15, 16, 21, 25, 40, 48, 54, 73, 79, 204
The lanes in this area are lined with shops and stalls selling clothes, books and antiques. Besides, there are three favourite shopping centres of the young and young at heart.
Siam Center features various designer label clothing shops as well as coffee shops, fast food shops and more.
Siam Paragon, a new vibrant shopping and entertainment area in Bangkok, featuring brand-name shops, world-class Thai and international cuisines, and popular fast food chains.
Siam Discovery Center, another high-class shopping centre, contains more designer stores.
Mahboonkrong (MBK center), this market-style shopping centre is packed with stalls selling everything from clothing and leather goods to cosmetics, gift items, electrical equipment, furniture and travel and camping equipment. This place is popular for its wide variety of products with inexpensive prices.
River City Shopping Center is located near Royal Orchid Sheraton, off Charoen Krung and Si Phraya roads. It is well known for its high quality art and antique shops. Auction sales of antiques are held occasionally at its exhibition hall.
Buses : 1, 16, 35, 36, 75, 93
The OP Place Shopping Arcade at Charoen Krung 38 near The Oriental Hotel boasts of being one of Bangkok's finest antiques centres, offering a wide variety of shopping items for the buyers of all interests.
Buses : 1, 16, 35, 36, 75, 93
The Old Siam Plaza
Located in the Chinatown-Phahurat area, this old Bangkok-style shopping centre has numerous shops selling guns, gems and jewellery, Thai handicrafts and stalls selling Thai food, sweets and snacks.
Buses : 3, 6, 7, 10, 19, 21, 37, 40, 53
The Emporium
This modern shopping complex on Sukhumvit Road contains brand-name clothing and other shops like most shopping centres.
Buses : 2, 25, 38, 40, 48, 71, 98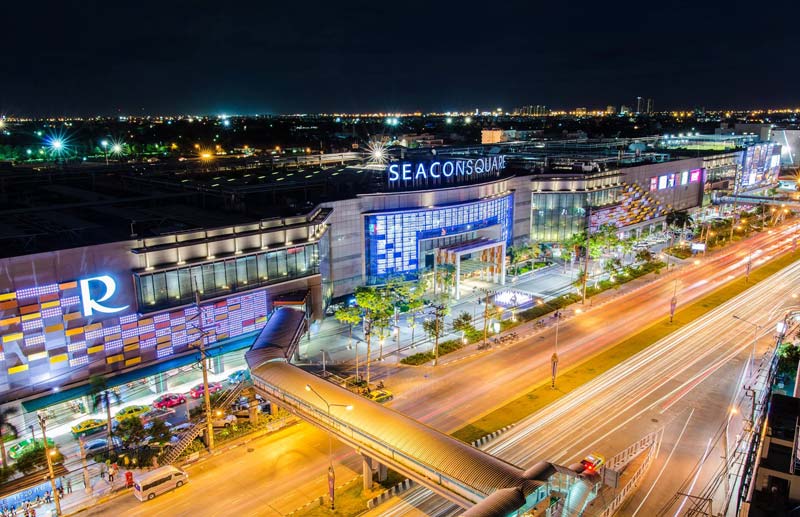 Seacon Square
Located on Si Nakharin Road in the southeast of Bangkok, this gigantic shopping centre attracts thousands of suburban people on weekends. It has all types of shops.
Buses : 93, 145, 207
Shopping Streets
Apart from markets and shopping centres, Bangkok has many shopping streets where you can buy anything from clothes, souvenirs, leather goods, watches and jewellery to all kinds of antiques and electrical goods. Generally, you can make a bargain of about 10-30% of the marked price.
Some well-known shopping streets frequented by Thai and foreign shoppers alike are Sukhumvit, Siam Square, Ratchadamri, Silom, especially in Soi Lalai Sap and Patpong Road, and Ramkhamhaeng.
Markets
There are lots of markets in Bangkok, but the most well-known and interesting, especially to foreigners, are the following:
Weekend Market (Chatuchak Market)
This is the biggest and most popular weekend market located on Phahonyothin Road in the north of Bangkok.
Thousands of people come here on weekends to view and buy many kinds of goods ranging from clothes to handicrafts, from garden plants to pets, from utensils to antiques. For shopping lovers, this is one of the best places to try out your bargaining skills. Since the market is very large in size, it is hard to set the place in good order. Thus, it is always a good idea if you can find a Thai friend to shop with you. The main part of the Weekend Market is open on Saturdays and Sundays from 6 a.m. to 6 p.m. It can be reached by:
Buses : 3, 8, 28, 38, 39, 44, 59, 77, 134, 136, 138, 145
Metro (MRT) : to Kamphaengphet Station
Skytrain (BTS) : to Mo Chit Station
Read more
Chatuchak (Jatujak) : The Biggest and Most Popular Weekend Market of Thailand
Pratunam Market
Located on the intersection of Phetburi and Ratchaprarop roads, this vast bazaar is packed with countless stalls and peddlers selling numerous kinds of goods. By the way, it is an ideal place to buy fabrics and ready-to-wear clothes at low prices.
Buses : 2, 13, 14, 17, 38, 54, 72, 73, 76, 77, 79
Chinatown
This is an old business centre covering a large area around Yaowarat Road and the nearby section of Charoen Krung Road. There are many small side streets full of shops and stalls selling all types of goods including household wares and Chinese foodstuffs.
Yaowarat Road is also a centre of gold shops which attract both Thai and foreign customers for their large selections and excellent workmanship.
Buses : 1, 4, 7, 25, 35, 40, 53, 73
Read more
Nailert Market
This is a new market complex on Phetburi Road near Pratunam Market. The types of goods are quite similar to those in Chatuchak Market, though of a smaller size. Its advantage lies in its convenient location for most visitors.
Buses : 2, 13, 17, 38, 54, 72, 73, 76, 77, 79, 139
Banglamphu Market
Apart from hundreds of guesthouses, this area is a popular market for both Thai and foreign tourists. Some good buys are ready-made clothes, handbags, men's and ladies' shoes, cosmetics and curios.
Buses : 3, 6, 15, 19, 30, 32, 33, 43, 56, 64, 68, 82
Bo-be Centre
Bo-be is a renowned ready-to-wear clothing centre, both wholesale and retail.