BANGKOK TOURS
MORE
Grand Palace, the Bangkok landmark, features spectacular Thai architecture and Wat Phra Kaew or Temple of the Emerald Buddha.
DAY TRIPS FROM BANGKOK
MORE
Located in Kanchanaburi, the world famous Bridge on the River Kwai is a part of the Death Railway constructed by Allied POWs.
---
Alex Holiday is a Bangkok-based travel agent, operating tour services and providing hotel reservations all over Thailand. We specialize in cultural, trekking, adventure and golf tours as well as other tailor-made tour packages. We can organize all kinds of travel for you. More details...
---
PATTAYA
MORE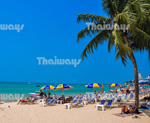 Pattaya Beach is divided into the north, central and south zones. The beach offers excellent facilities for watersports enthusiasts of all kinds.
PHUKET
MORE
Patong is the most famous beach in Phuket. With its wide variety of activities and nightlife, it is an ideal place to relax, party and play.
---
SAMUI
MORE
This 7-km beach is the longest and the most popular beach on the east coast of Ko Samui. It has clean white sand and clear blue water.
HUA HIN
MORE
A popular beach destination about 3-hour drive from Bangkok. Its long sandy beach with relaxed atmosphere is great for family holiday.
---
---